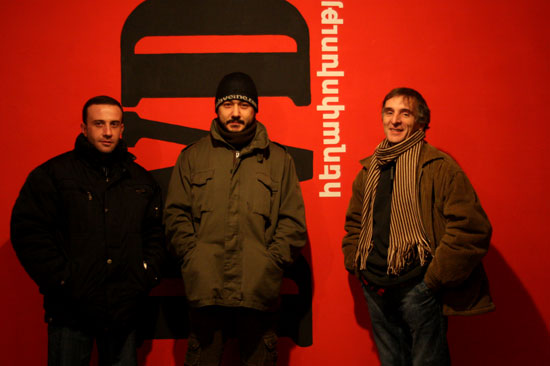 Libertarian Socialism / DVD Revolution – Manifesto
Libertarian socialism is based on the principle that each person belongs to him/herself; he/she is the owner of his/her body and mind. The reason why it is difficult to understand the above mentioned statement is that we are not able to control the beginning and the end of our lives – our birth and death.
Libertarian Socialism is a political philosophy, which struggles against authoritarian violence and social hierarchy. It excludes any action imposed on a person when he/she is forced to act against his/her own will. This is a political theory that aims to build a society based on the princi­ples of equality and free agreement.
The expression "DVD revolution" was used for the first time by the opposition leader Levon Ter-Petrosyan (which as he said, he had heard from the talks among the protesters) during the 2008 presidential election demonstrations in Yerevan. Activist groups produced and distributed DVDs which contained information about demonstrations, meetings, activist actions and speeches delivered by their leaders as well as video documentations of the clash with the police and special forces on March 1. Using a DVD format made it possible to widely circulate this material. But they could not be aired on TV because of strict censorship and if they were published on the web, the scope of the circulation would be limited due to the inaccessibility of the  internet in Armenia. The manifesto DVD REVOLUTION was written by six artists at the same time  (Tigran Khachatryan, Yuri Manvelyan, Arman Grigoryan, Karen Alekyan, Karen Barseghyan, Arman Martirosyan). It reflects on the revolutionary process in Armenia and proposes an alternative artistic "revolutionary program".
_________________________
Arman Grigoryan – artist, curator, was born in 1960 in Yerevan. He is the creator of the Armenian pop art and one of the founders of the "3rd Floor" artistic movement which was one of the first alternative art movements in the Soviet Union. From the early 1980s on, he has been attacking the discursive clichés that have conquered both the visual environment and the language. He is now utilizing mobile phones for this attack.