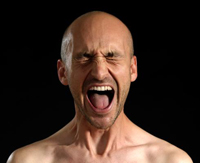 "Mikhail Karikis" Performance – 10th September, 2010
The artist participated in the 7th Gyumri Biennale with a performance. The 7 minute performance was an extract from his current work, "Xenon" opera. The performance was not mentioned in the Biennale program or booklets because it was planned to be an unexpected and shocking event. The artist decided to make it during his speech at the opening ceremony.
The artist noted after the performance: "When I spoke with people in English (my second language), many did not understand me; when I performed in the artistic language, the response was immense."
The performance was very successful.  Many guests were very interested in Mikhail's work and followed us to Yerevan to participate in Mikhail's presentation on 12th September.
Sound workshop and performance – 12th September, 2010
The presentation/workshop at The CLUB
During his presentation, the artist talked about his recent art works, including his current collaborative project entitled XENON: an explosive opera which involves over 20 other international artists and explores the questions of human rights, territory, belonging, memory, independence and impossibility through different encounters with strangers.
Mikhail Karikis is a Greek-born and London-based artist. He has studied music, art and architecture. Karikis has developed an art practice that is equally embraced by art galleries and concert halls. His collaborators range from international visual artists to choirs, choreographers and designers. Karikis works cross-disciplinarily in performance arts, visual arts and music, focusing particularly on encounters with strangers, often employing the voice as a tool to explore ideas and politics of empowerment and difference. Coined by critics a 'sound alchemist' (Le Monde) and noted for his 'sumptuous experimentalism' (WIRE), Karikis's first music-release on a Björk album was followed by his critically acclaimed album Orphica (Sub Rosa, 2007) and his award-nominated project Morphica (2009). Mikhail's works have been shown at Tate Britain (London), Nederlands Dans Theater (Amsterdam), Musée Cantonal des Beaux-Arts (Lausanne), Coreana Museum (Seoul) and elsewhere.